Clouds Natural Clay has been formed over Millions of Years and it is really good for your skin?
Our earth is the natural source for receiving vital energies from the sun, air and waters, these combined powerful agents are known for the physical regeneration of our planet and for restoring and maintaining our earth's good health.
We are so delighted to bring to you our amazing botanical green clay that was created and formed over millions of years by our world's health restoring processes.

Take a look at our range of Vitamins

Clay is a natural source of goodness that we want you to share in its health benefits.

What is Clouds Clay and why should you use it?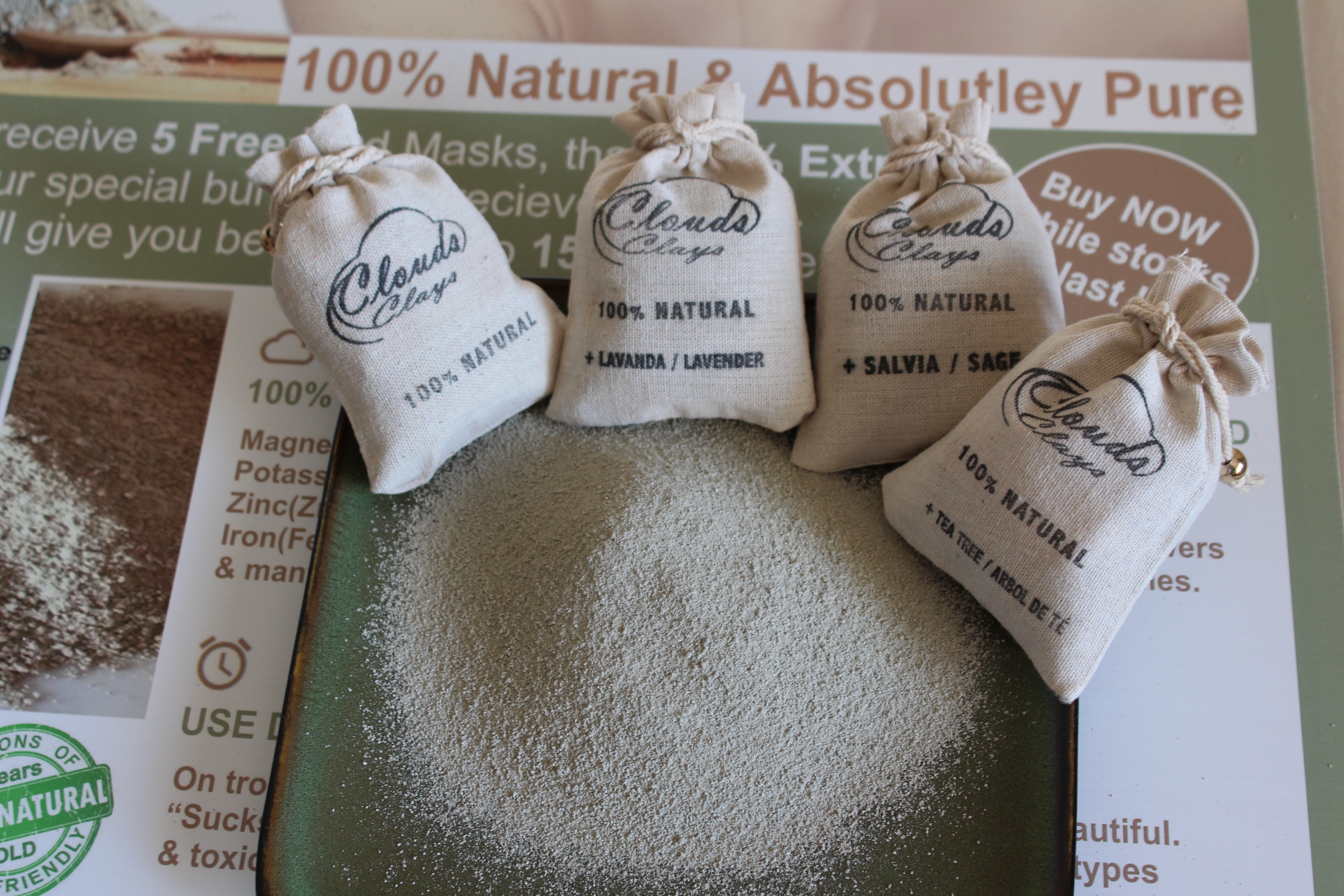 The absorbent power of our clay is extraordinary and the key to its wonderful healing abilities.
Green Illite clays are the best known clays in the world, that when applied to the skin give an overall outcome of benefits and well-being.
Our 100% Natural face clays are super rich in vitamins and minerals and have the power to absorb, purify and calm the most difficult of skin types.
Our organic, all-natural detoxifying bio-friendly clay has a unique composition and purity.
Clouds clay has been naturally extracted and comes from the most purist quarries of Spain. It has been studied, inspected, analysed and it is 100% natural bio-organic clay that is totally eco-friendly and paraben free and has met to all European microbiological standards.
Clouds clay has such valuable and important rich elements and with oxides combined, that include magnesium, potassium, calcium, silica, phosphorous, copper, manganese, silicon illite, paragonite, quarts, albite, mica, gypsum and many more. Its no wonder that Clouds Clay is the choice of many famous users.

Who Uses Bodily Clay Face Masks?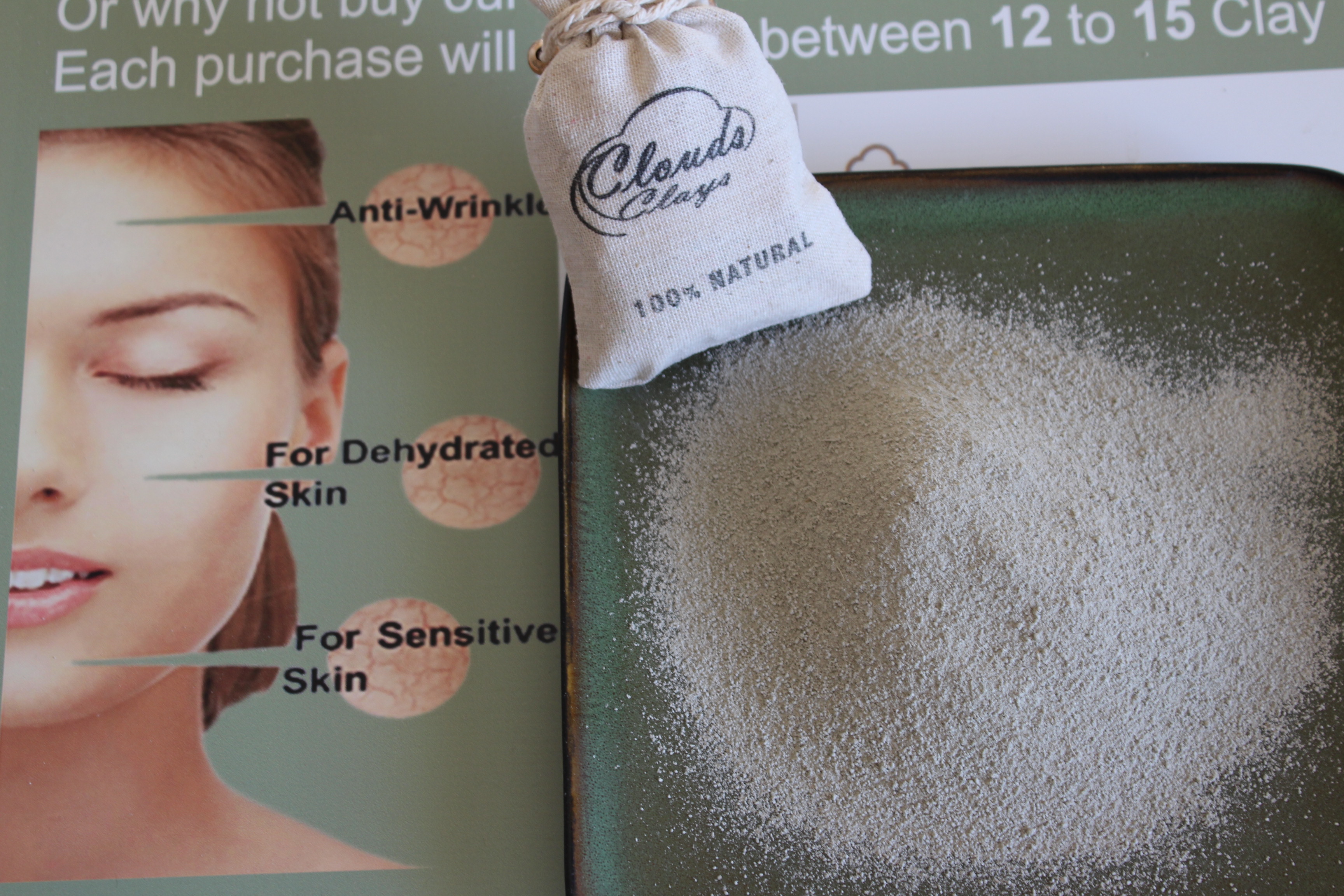 Clay was first used and embraced thousands of years ago in ancient China and was also employed medicinally by the Romans, Greeks, Phoenicians, Egyptians, and used by many other cultures that came across it throughout the world up until today, even Cleopatra was known to use clay for her beauty treatments.
Today it is used by everyone and it is the must have facial product. Our thousands of satisfied and returning customers can't all be wrong can they?
Clouds clay is exciting, versatile and ideal for all skin types including oily, thin, and sensitive skin and perfect for a range of different skin types from the very young to the very old.
It is mild on your skin and everyone who uses it raves about how good it is. You only have to look at some of our testimonials to confirm this.
We only sell the cleanest, purest, highest quality Clay.

Why is the clay green in colour?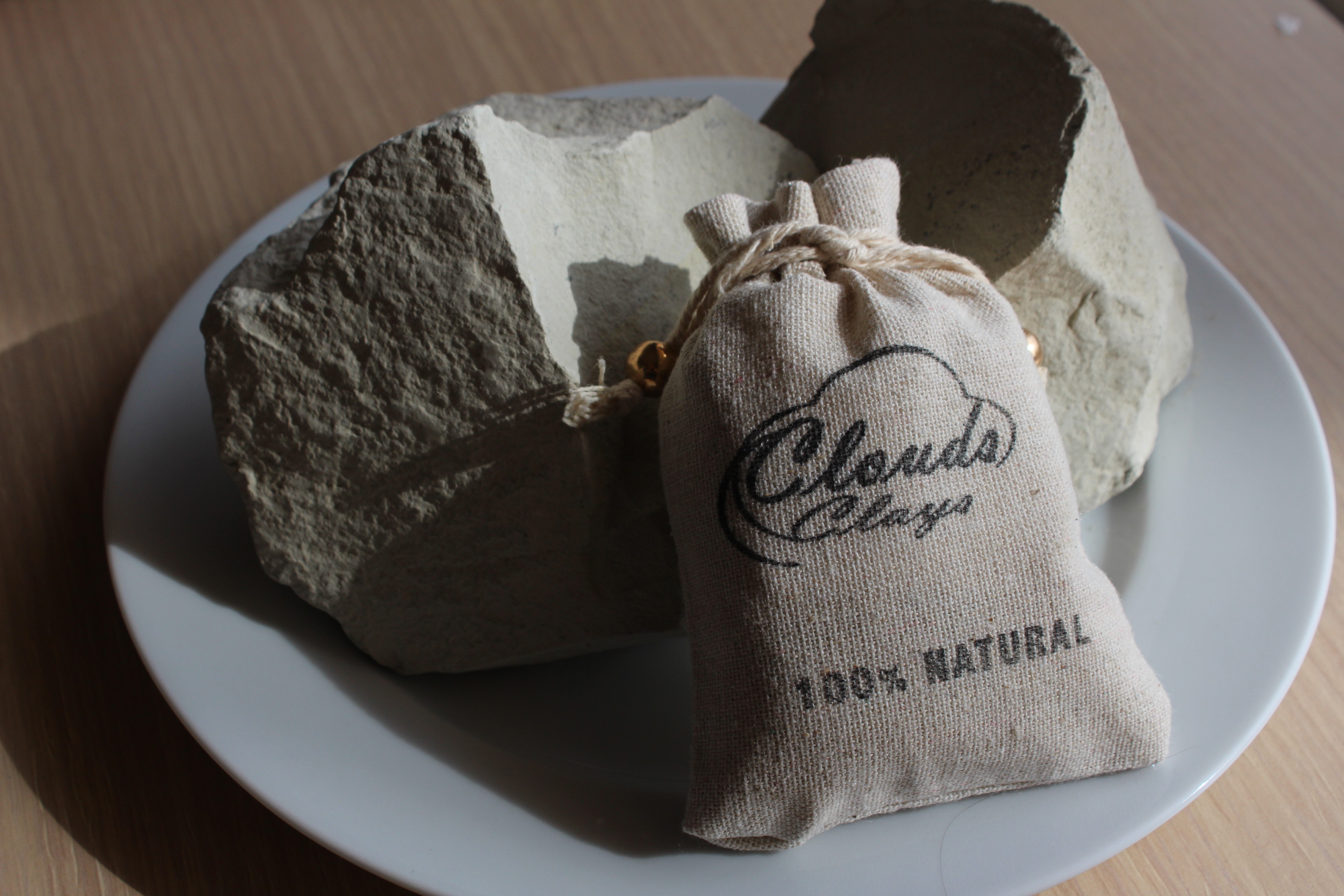 Our natural clay is odourless and its gains its soft darker green colour due to the rich mineral content found within. It gains its green colour from the decomposed plant matter that has been absorbed and slowly formed into the clay over millions of years.
Where does natural green powder clay it come from?
Clouds illite clay is of the highest purity and quality and comes from pollution free quarries in Spain that were formed by the sea bed millions of years ago.
It is sometimes called "marine clay" The natural green tones and colour that are found in the clay are from the cycles of life our earth uses to regenerate itself.

What are the benefits for using organic clay masks and what does it do?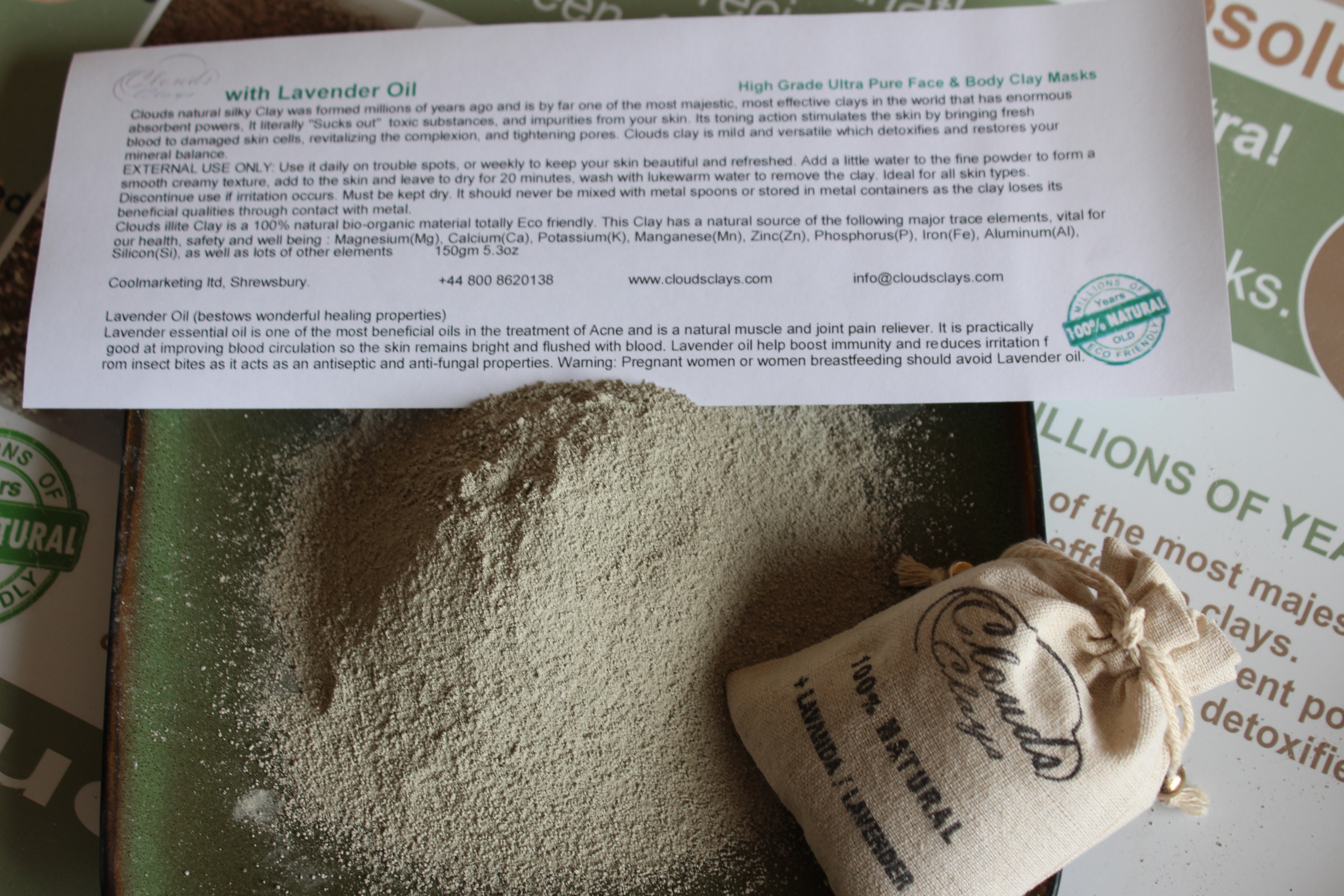 Clouds Clay is by far one of the most effective and majestic natural clays in the world that is being used by the global community.
The absorbent power of this clay is extraordinary and its power acts like a sponge effectively sucking the impurities out.
The natural healing and anti-aging properties found in the clay ensure your skin is free of wrinkles and other common skin conditions. It helps effectively to improve blood circulation, and helps to lighten surface aging spots and fades any acne scars and can curb the excess production of oil.
Once applied the clay moisturises, purifies and exfoliates the skin, it produces collagen, unclogs your pores and helps eradicate eczema, psoriasis, blackheads, rosacea, breakouts, skin rashes, irritations, dryness, clears acne, sun damage and reduces wrinkles, fine lines, cuts, bruises, bee stings, insect bites and many other imperfections, it literally brightens and rejuvenates your skin.
Clouds Clay is the perfect face mask for toning, tightening, and tone your skin textures that helps nourish and protect the skin and improves your skin's feel and appearance.
Clouds natural sundried clay masks remarkably improves the complexion that leaves you with clean, hydrated, soft, and radiant skin. It is a multi-purpose cleanser designed for daily use as a skin conditioner.
Banish those bad skin days and unleash your confidence. Using Clouds Clays on a regular basis on your skin will leave you feeling beautifully bare, rejuvenated, and purified. When your skin feels good you feel good as it brightens your complexion, along with your whole day.

Why should I try Clay Facial Masks or buy it?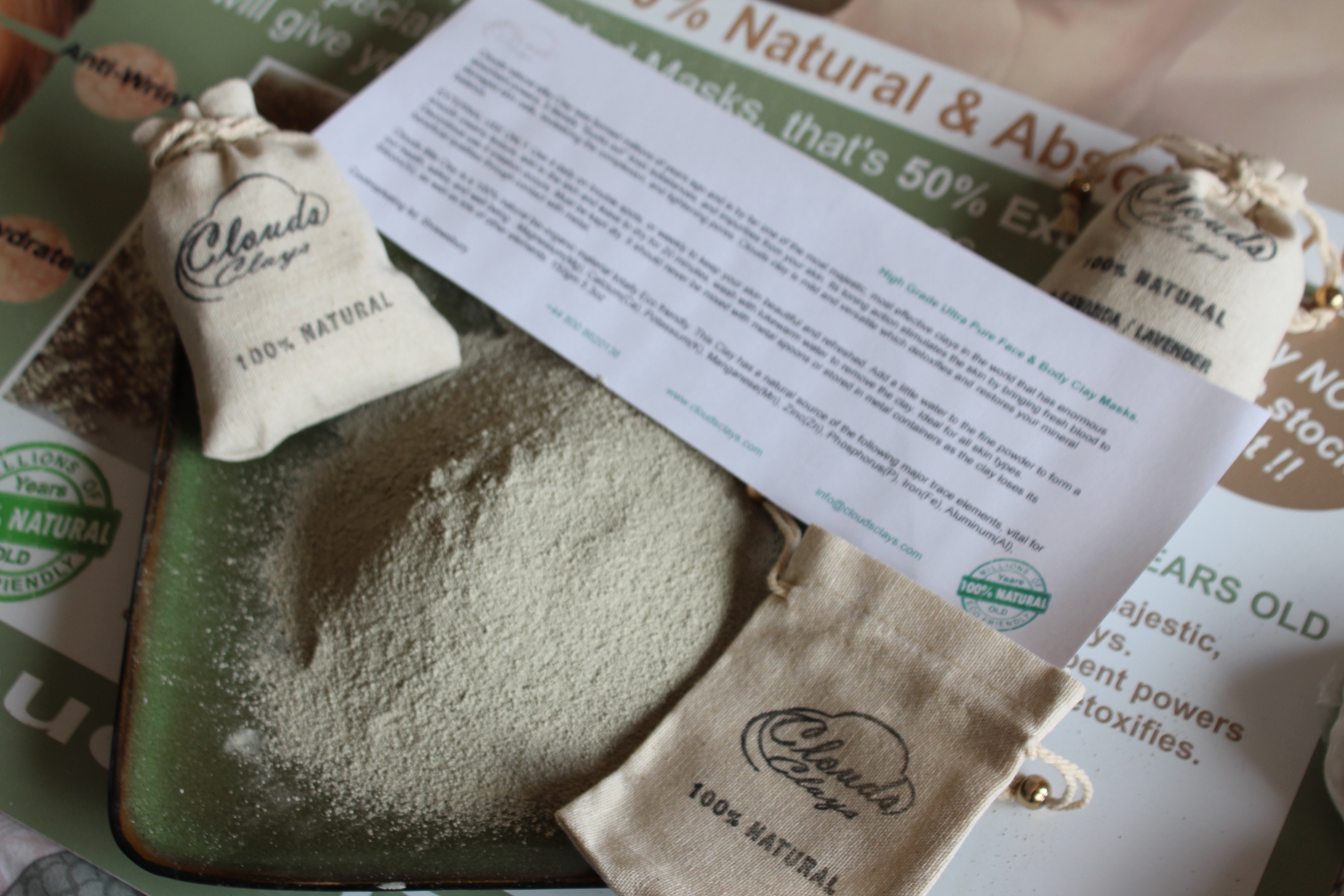 Why pay for expensive spa treatments when you can get up to 15 face masks from buying just one of our hessian 150g bags. It can cost up to £80 and even more to have a facial spa treatments today. Why pay when you can have a natural facial clay treatment every day for a fraction of the cost?
You can experience the wonders of our spa-grade natural healing clay from the comfort of your home at an incredible value for each face mask.
Our completely natural organic illite green clay contains absolutely no gluten or parabens, fragrance-free and is free from cruelty and it is 100% and eco-friendly.
The clays electromagnetic properties penetrates through the skin to hydrate it and deliver powerful nutrients giving you a smoother, clearer, youthful looking, silky smooth skin you deserve.

Tips on How to use Clouds Pure Clays?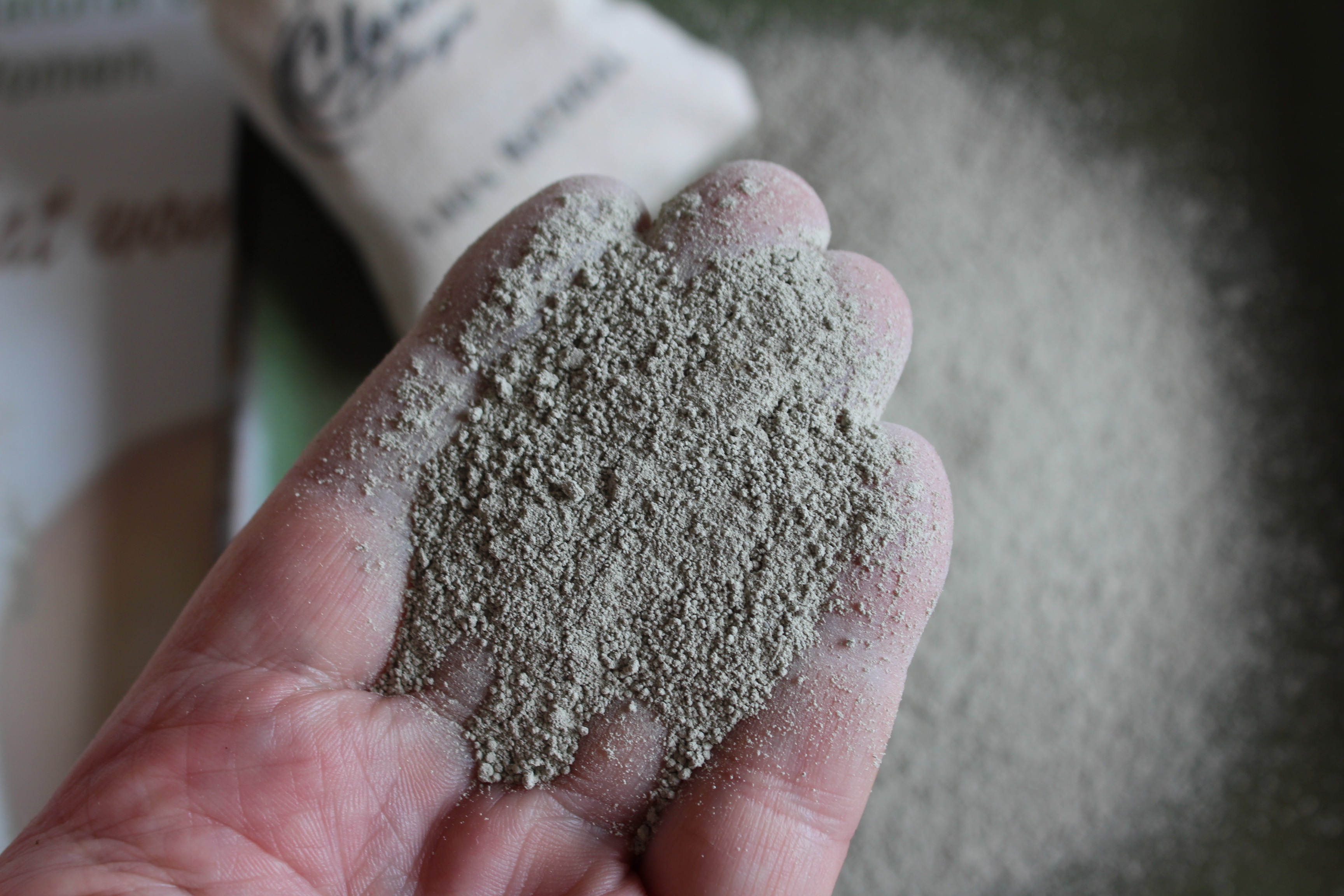 Please read the instructions provided that come with every bag of clay.
Fast Acting – All you have to do is mix the clay with a small amount of water to create a smooth cream, then glide the cream over your whole face, neck, and hair as needed and allow to dry.
Avoid contact with the eyes and mouth as the clay may irritate these delicate areas.
You'll start to feel your skin tighten in seconds as the clay dry's, as the intense detoxification kicks in and absorbs harmful substances and impurities from your skin; giving your skin back firmness and elasticity.
Leave the clay to dry for around 20 to 30 minutes and wash off with lukewarm water.
Applying a moisturizer after rinsing off is a good idea.
Used regularly, you will see Stunning Results – With this clay facial mask you can expect to see a soft, smooth, and toned skin complexion that is free from blemishes, dryness, blocked pores, and blackheads. . Any eczema, acne, or psoriasis is treated without stripping essential oils from your skin.
One can expect your hair to feel lighter, more manageable and conditions, with defined curls and controlled frizz.
Clouds Clay can be used by humans, horses, cats, dogs and other animals For external use only

Conclusion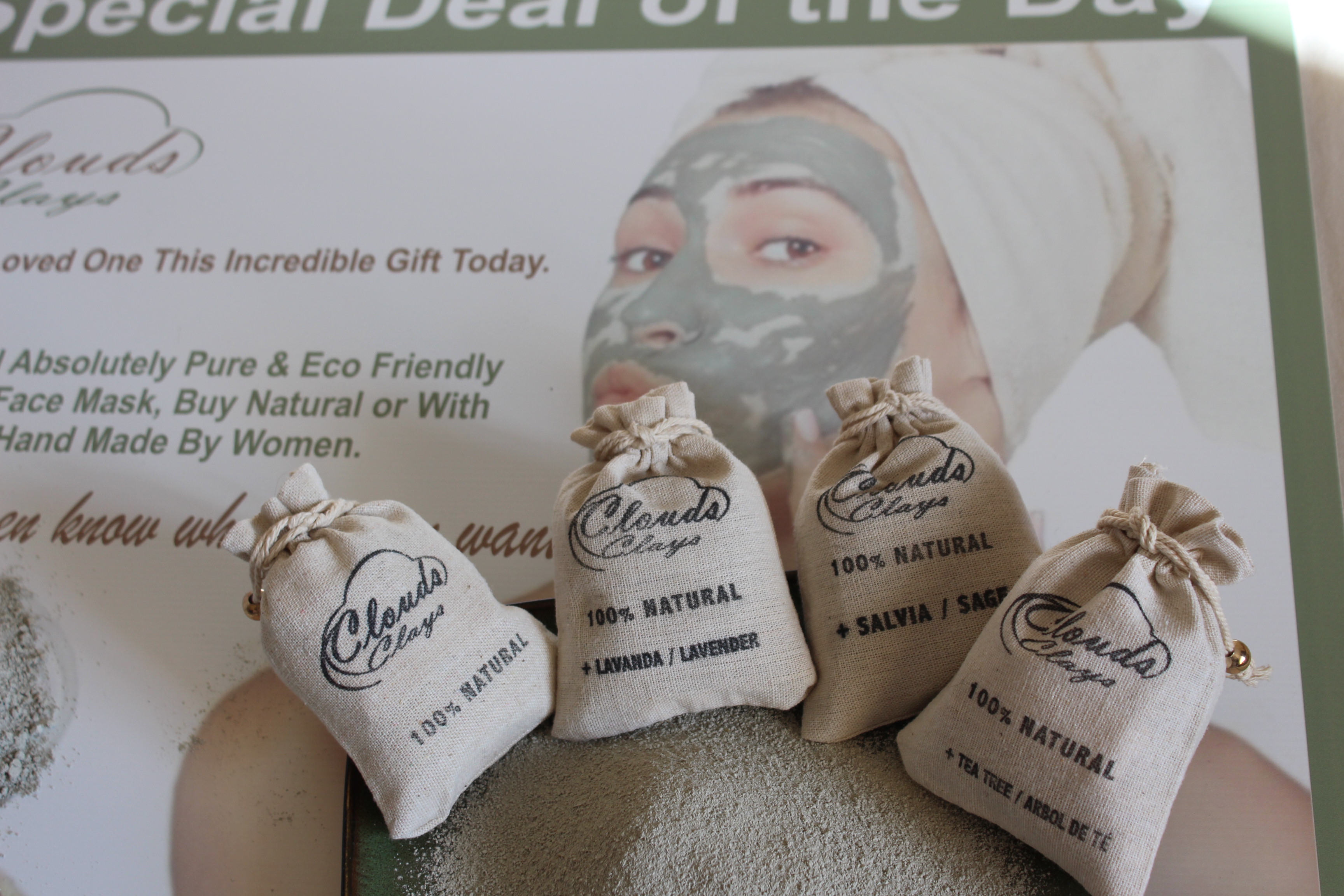 Using Clouds Clays on a regular basis has been proven to be a good solution to improve the look and quality of your skin and hair.
We believe so strongly in the benefits of Clouds Clays mud face masks that we offer a complete money-back guarantee good for 60 days. Just contact us and then return the product and enjoy the natural look and feel of your skin without any risk.
Our eco-friendly hessian bags of natural organic fine powder clay also make an ideal gift for him or her, individually or presented as a set.
Storing Clay and usage?
Clouds Clay Must Never be mixed with Metal Spoons or stored in Metal Containers and it must be kept very dry.
Only Use to mix the fine powder clay with water with wooden spoons or plastic, glass or ceramic containers. Clouds natural clay mud masks are magical and if it comes into contact with anything metal it will lose a percentage of its amazing beneficial electromagnetic properties.
Once used, never re-use the clay.